The smart choice for professionals.
Take advantage of this opportunity to rent your Plasmatrohn. A powerful tool with which you will add value to your practice, to your patients, clients, relatives, friends and their pets, since plasma pulses have also been shown to be effective in animals.
We have developed this plan thinking of therapists who want to implement frequency therapies as support in their treatments. However, it can be a very interesting option for individuals who want to test this equipment before making the investment.
With the purchase option, you can keep the equipment with a great discount after reaching the monthly payment limit.
Divide your investment into comfortable installments and start implementing cold plasma pulse technology today.
Service available only for the Peninsula and the Balearic Islands.
Discover the advantages of renting with the option to buy the Plasmatrohn.
Start with a deposit of €5.000, which will be fully refunded at the end of the contract, provided the equipment is in optimal condition.
Start with a 3-month commitment.
Then choose between:
Extend the rent according to your needs.
Terminate the contract with a 7-day notice.
Opt for the purchase of the equipment.
A monthly fee of €605 (VAT included) with the option to turn your rental into an investment.
Discounts on the purchase according to the duration of the rental:
3 – 6 months: 5%
7 -12 months: 10%
13 – 18 months: 20%
19 – 24 months: 30%
More than 25 months: 40%
We take care of the initial shipment.
Return costs can be deducted from your security deposit.
If you are ready for a rental solution that suits you, all you have to do is start by purchasing this service.
It's simple, it works like any other product in our store.
In the first payment, you must choose the option "Deposit + 1 month rent". When we have registered your order, our team will contact you to formalize the contract.
From now on, you will have to return every month to acquire a monthly payment. You will see the option in the product tab.
As you can see, it is very easy to extend your contract month by month. Visit us to acquire a monthly payment ("1 month additional rent") and renew your contract.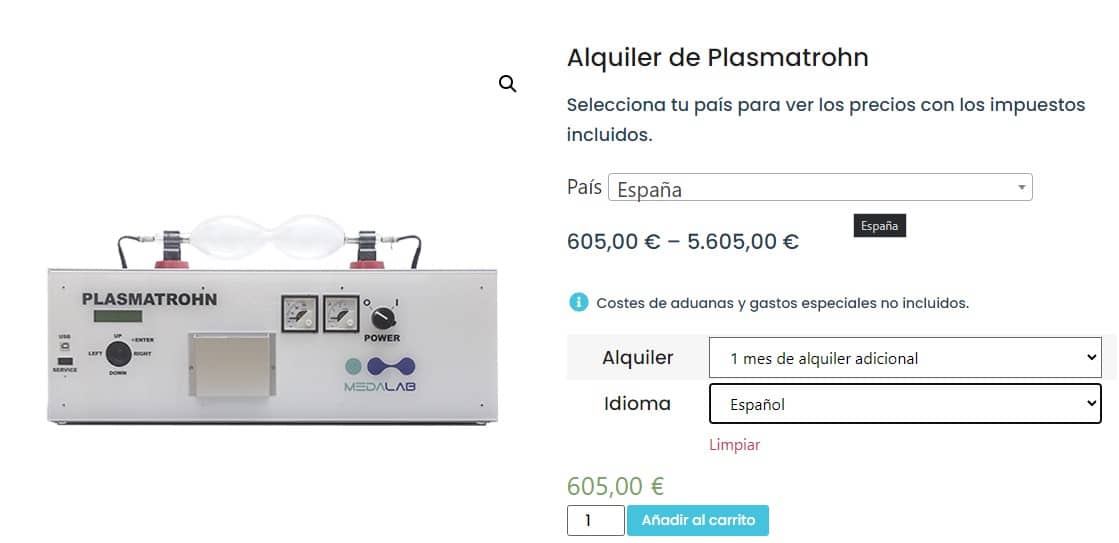 Add extraordinary value to your therapy sessions with cold plasma pulses.