know the solutions developed in Medalab to treat different types of pathologies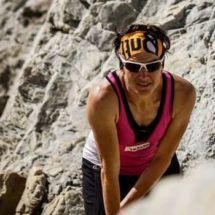 In addition to being a biochemist, a firefighter and a mother, I am an elite athlete and have run many marathons. On one occasion, before a very important one was held, a few days before training I had a sprain that left me in dust: swollen ankle and protocol of anti-inflammatories and rest for 2-3 weeks. Well, I made the wonderful decision to use the Biotrohn with the inflammation program by placing one of the electrodes on the injured ankle and holding the other with my hand. After 4 days, yes, 4 days, I recovered and was able to run the marathon, also achieving a very good position. www.emmaroca.com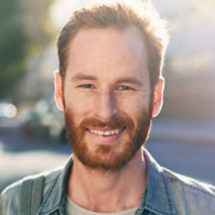 "My experience with the Biotrohn was because one day my wife was paralyzed half of her face. The doctors told her that it was due to a virus and that it would take months for her to regain facial mobility and they were not sure of the evolution. I quickly remembered the device and she started using it. From the first minutes she told me that she felt the microcurrents in the area of ​​the paralyzed face. Well, it was an absolute joy that in just three days she managed to fully recover! "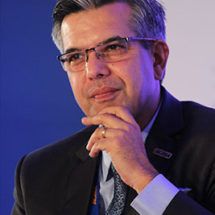 I can assure you that my experience with the Plasmatrohn has been surprising. My arthritis has improved a lot and my cataract is hardly noticeable. On the other hand, although the veterinary issue is not mentioned, I have to say that my dog ​​had breast tumors diagnosed for surgery, and in fifteen days treating her with Plasmatrohn they have disappeared... I am amazed.
Plasmatrohn and eye disease
Patient who had herpes in the eye, felt it burning and had it constantly dry and irritated. At the end of the day it was very difficult for him to see.
There is a great improvement in vision after 6 sessions with the Plasmatrohn (Macular Degeneration program.)
He stopped having burning in the eye where he had herpes.
Since then he has not had any unpleasant symptoms and his eyesight is improving, despite the fact that he has been wearing glasses since he was a child.
Mary - France
Biotrohn and thyroid
Hello. My Biotrohn arrived yesterday. About 10 years ago I was diagnosed with hyperthyroidism and put on medication for life. With biomagnetism I managed to stabilize my thyroid and I haven't taken any medication for a few years. I developed a goiter that also with biomagnetism decreased quite a bit, leaving only a few small nodules. Of course, when my long-awaited Boitrohn arrived, I started with the Frequency UAndreas Kalcker's universal program -2 times- and also the Dra. Clark program. I have noticed with these few sessions a lot of tingling in the neck... and the most interesting thing is that my hands, which hurt me A LOT, so much so that I avoided some tasks, because this pain has almost completely disappeared! I'm very happy!
bougainvillea
Biotrohn for liver and gallbladder
Yesterday my blessed Biotrohn arrived!
I did the Gallbladder program, which I have been in process for three weeks with dizziness and others and… wonderful! As I did, I just got rid of the resentment I had toward someone from the past... spontaneously... when it was over I started dancing... I hadn't danced in a long time... and today no dizziness, total clarity.
Then I had a Liver Stimulus, I have had a burning sensation for more than a month from the liver, lateral to the right chest and the entire side of the right hemicranium (just the route of the Liver meridian). Well, today there is no longer that strong feeling in the head, it appeared slightly but it is very subtle!
Super grateful to those who have made this tool possible and my friend Nisamar who introduced it to me!
Ainat - Spain
Biotrohn and chronic pain
My Biotrohn arrived recently and I have already started a few sessions. Yesterday I started the Universal Frequency program and my chronic joint pain is almost gone… I am impressed.
Diane - Canada
Plasmatrohn and cancer
I have two cancer experiences with the Plasmatrohn.
The first person to try it was my father.
My father was diagnosed with prostate cancer in 2019, it was not a very aggressive cancer and during 2020 the hospitals did not receive anyone and he began to take CDS every day in prevention against COVID (10 ml a day.)
The following studies went well, the prostate antigen was normalizing.
In 2021 he is vaccinated against COVID, 2 doses, he has to consult with the doctor who warns him that if he does not get a third dose he will not treat his cancer.
A third dose is given in January.
They do a petscanner in February and it shows that the tumor has grown very large.
A biopsy is scheduled for May.
At the beginning of March we bought the Plasmatrohn and, still not convinced, he started doing sessions once a week.
He also performs the protocol C20 and protocol R once a day
After 5 sessions with Plasmatrohn, the biopsy is done and… they found nothing! no cancer, no inflammation, not even the scar of the tumor.
The stunned doctor.
-------------
Second experience, from this success with the Plasmatrohn I begin to create a group of frequencies to make it accessible to anyone who wants to try it.
My cancer group has 8 people already.
Christine has had cancer for 2 and a half years, it started with uterine cancer that was removed. After bowel, she goes through 17 chemotherapy sessions, she weighs 39 kilos. The cancer affects the lining of the pleural and peritoneal cavities. She arrives at the group with her husband who always accompanies her. She starts taking CDS and doing enemas, she eliminates sugar and carbohydrates from her diet.
He does 6 sessions of Plasmatrohn and then they perform a petscanner, where they no longer found anything. Cancer markers decline for the first time in 2 XNUMX/XNUMX years.
In general, the whole group has improvements, although they are not yet completely cured.
Mary - France
Biotrohn for prostatitis
I have been using the Biotrohn for several days and I have improved a lot with the Prostatitis program. to get up 4 or 5 times at night to not get up even once until the next morning. A 10 for the Biotrohn.👍🏼
Ainat - Spain
Plasmatrohn and migraines
Hello everyone,
I wanted to comment that the Alpha waves of the Plasmatrohn team helped me to eradicate migraines to a person who suffered them at least every 10 days for more than 10 years.
Mary - France.
biotrohn for anxiety
Yesterday I used the program for anxiety, which lasts 33 minutes and I don't remember anything because I fell asleep and when I woke up I had the feeling of having slept longer and deeper. Today I woke up very well and I slept all night in one sitting.
Laura - Spain
Biotrohn for menstrual pain
Hi guys!
I'm on vacation and I've had severe menstrual cramps between yesterday and today.
Today I put the generic Aluka because I didn't see anything hormonal and I started to feel good right away. In fact, in the morning I had taken ibuprofen, but nothing helped. until that moment. Well, when I finished the Aluka program I felt in a good mood and I no longer felt pain! I will wear it daily!!
Eli L. - Barcelona
Biotrohn and Autism
Hi, I'm French and I use a translator, I hope you understand me well.
I have 3 testimonials to bring:
I experienced a headache that instantly disappeared at the end of the program with the "headache" program even though it had been going on for 2 days.
I think I caught the coronavirus (suddenly I had a fever, tiredness and pain): I went to bed and started the "Coronavirus" program. I fell asleep on it and when I woke up I had almost nothing left. Since I also took CDS, in 2 hours it was over.
With a friend who has her autistic (adult) daughter, we tried the Autism program, and well, she fell asleep in the 3rd part of the program (it had calmed her down), she had well-done phrases in the hours that followed, which impressed my friend . So I lent him the Biothron until he bought one. He now uses it 2-3 times a day for a week. Her daughter is super calm, she also does protocol C and P in parallel. And her daughter, when she sees the machine arrive for a session, says: "There's the repairman!". I specify that he has a very minimal vocabulary, and since he uses the Biotrohn, he makes coherent sentences and listens to our conversations. She is less in her world and interacts with us more. Her mother thought that she could not bear microcurrents. Well, when she's too strong, she takes the patch off a little bit, but she sticks it right back on. She clearly feels that it makes her feel good.
Sophie - France
Immediate improvement with Biotrohn
Hello everyone. I would like to tell you two things.
The first referring to my experience with the Biotrohn. I'm doing liver cleanses, once a month until no more stones come out. I already have a few. When you do these cleanses, it is advisable to do a kidney cleanse from time to time, since there are elements that filter through them and you may have a problem if you do not do it. Right after my last liver cleanse I started having a little sore in my kidneys. I already knew what that meant. This time I decided that instead of doing the herbal kidney cleanse, I was going to use the Biotrohn with the kidney boost program. So I did it. I spent two days it seemed that a steamroller had run over me, very very tired. He was like "convalescent". Like when you're recovering from an illness. But the discomfort in the kidneys decreased with the first session and disappeared with the second. On the third day he was fully recovered, out of any healing crisis. My kidney cleanse was successfully done with the Biotrohn alone.
I also tell you that my mother went a few weeks ago to a meal of an association. The next day she was not feeling well, and some other people who went to that meal were also sick. My mother does not have a gallbladder and she could barely eat. I was quite worried. She took some CDS (no specific protocol, just a glass from time to time) and she got a little better. I tried to get her to use the Biotrohn, but she was resistant. After several days, while she was still sick, I finally got her to use the Biotrohn with the general program. The improvement was immediate. She continued to use it daily and is now fully recovered. She is now a regular at the Biotrohn, and no one can take it away from her.
And now I want to talk to you about the Medalab team, for which I feel the deepest respect, admiration and gratitude. They are TRUE PROFESSIONALS, especially Anais, who is the one I have communicated with.
I had a problem charging my Biotrohn. I'm not going to give you details so as not to bore you, but I do want to tell you that the Medalab team did indeed solve the problem, going beyond what they simply could have done. The treatment and professionalism have been excellent and I am enormously grateful to them. It is comforting to know that behind the Biotrohn, there is such a professional team that truly cares and cares for its users.
We are in good hands!
Eduardi G. - Caceres
Myomas
Hello, I have had my Biotrohn for 2 months. I have given it to a girl who had problems with pain in her abdomen and lower back before and during her menstrual period and with this therapy we are obtaining excellent results. We start with 1_universal frequency and 2_generic Aluka; then we continue with 107_uterine polyps. From the moment we started (having her period) she got better, she had less bleeding and less pain. A few days ago she was with her again for her period and "surprise" it came down without pain, without clots, lasting fewer days and with less bleeding. She is very grateful and I am pleased to see the results. Now I am giving her 4_detoxification, 24_inflammations and always 107_uterine polyps.
Monica E. - Guatemala
Insomnia
In my opinion, when it comes to health, I consider the Plasmatron, the cds and hata yoga, as the holy trinity. Impressive and instant result of the 23_insomnia program, persistent effect throughout the day in a state of mental relaxation.
Joseph - Barcelona (Spain)
Urinary infection
Hello! I am Lizette, Naturopath, iridiologist and kinesiologist. I bought the Biotrohn about a month ago. I am very happy because it is great. I use it while accompanying people to become aware of the possible cause of their illness, and this makes healing faster. I treated a urinary tract infection with natural products and their corresponding frequency at the Biotrohn and had solution in 1 hour!!!!
Lizette - Spain
Toothache
Hi!
Today I had a very difficult tooth extraction. When the anesthesia wore off, it started to hurt a lot.
I decided to use the Toothache program and the pain disappeared.
I was surprised by the result that's why I share it.
Grace S.
Cholesteatoma in the right ear
I want to share my testimony about Plasmatron and Biotrohn.
I have been living with a cholesteatoma in my right ear for years. A benign tumor that can be harmful to a small or large extent, depending on its size and its evolution, and can cause facial paralysis, dizziness, brain abscesses, and even meningitis.
Due to its complexity in the operation, and not guaranteeing good results, after telling me in the last review that the operation would be convenient due to such a great loss of hearing, I decided to open myself to other options before this one.
The last audiometry estimated 80% hearing loss. After two and a half months of treatment, in the last review I have recovered almost 40%, thanks to this technology.
Not only has hearing improved, but other collateral factors, such as digestion, circulation, and mental clarity.
Science for health. It is worth investigating and understanding that our health is not for sale. If it can be healed in a safe way and without adverse effects, we have to share it.
Thanks to the entire Medalab team and to the years of research that make this possible today.
Edward - Madrid
Biotrohn for hangover
I would like to share my testimony: Saturday was a hard day for lunch and then dinner with football included.
After a night of many drinks the next day I woke up with quite a hangover and I started the Detoxification program… I guarantee you that I got rid of my hangover in an hour!
I understand that it is best not to drink but now with summer and so many social gatherings it is inevitable.
BenJ.
Biotrohn for stye
I tell you that I went to the ophthalmologist for a stye and he prescribed an antibiotic eye drop. But I didn't get to use it because the night before I put on the Universal Frequency program and in the morning I noticed less pressure, then I went to spend the weekend at a campsite and I was at sea, then it started to ooze and end of story, after two days the eye was healed.
Lilian Martinez
Plasmatrohn and meditation
My personal meditative experience with Plasmatrohn was very nurturing. My personal process to reach the connection through meditation was accompanied and facilitated with the Alpha and Gamma waves of Plasmatrohn. A dance of frequencies within me that made me feel a deep calm, an incredible and magical quantum journey that I recommend everyone to try.
Jessica Manjon - Spain
Muscle pain and inflammation
Hello. I wanted to share two experiences I've had this week with the Biotrohn. One is that he had a swollen gum from a tooth. It has happened to me other times and, normally, it took a week until it was cured. This time I used the Biotrohn and with just one treatment it went away in a day. On the other hand, due to a fall in the field, he had been suffering from muscle pain for 2 weeks and could not walk well. But I went on vacation and then I tried the fibromyalgia program and the next day I was walking for the first time without pain. I am delighted with the machine!
Kerstin
My body recovers sooner
I've had the Biotrohn for two months or so and have been using it continuously almost daily with several different programs, because I don't really know which one to put on. I can affirm that it has relieved pain by putting the one for inflammation, flatulence, etc. In general, I now bear fatigue better, despite the fact that my work rate is high. It is as if I recovered before stress and exhaustion.
Another thing that I have noticed is that I had a slim body and in these two months I feel as if my body has regained the muscular volume that it had years ago and even the firmness of the skin.
Noelia - Pontevedra
Candidiasis
Desperate after years with candida on my body, vagina, tongue... no doctor offered me any solution.
A friend told me about Medalab and I got in touch with them.
I have carried out the treatment in Castellón, with Plasmatrohn and Biotrohn for a month.
The candida on the tongue has disappeared and the wounds in the vagina are closing.
When I have crises at night, I put on the Biotrohn and at least I get to sleep for a few hours... Since before I woke up every 3 or 4 hours from itching.
MC - Castellon
Lyme
I went to Alcossebre for a few days of vacation to be able to go to the Medalab Therapy Center.
About 4 years ago I was bitten by a tick on my belly, a spot that was growing and the doctor diagnosed me with Borreliosis / Lyme.
Over the months my joints began to hurt and my mobility was increasingly reduced.
Where he felt it most was in a weight on his shoulders.
In Medalab I used the Plasmatrohn, and in the second session I already noticed as if they freed me of that weight from my shoulders.
I was only able to stay for a week, but I will return to do a complete treatment, since I still have some pain in my arms.
But I can go for a walk and do my daily chores, which used to cost me a lot, and many times I stopped halfway because of the pain.
Thanks to the great team at Medalab, I have felt at home.
Agnes - Madrid
Fever and C*vid symptoms
Hello! I no longer have a fever at last and without taking antipyretics. I have experienced that with the Lymphatic System program my fever went down and my defenses also went up. For me, in particular, it has come in very handy.
They did an antigen test on the third day of having a fever and it was negative, but I have had the same symptoms as when I had C*vid (or so they call C*vid.) The fact that I had it or not… that is no longer I know.
Thank you very much for the excellent attention!
Sonia L. - Spain
Follicular lymphoma
I was treated with chemotherapy for 6 months and then another 2 years with another treatment due to a follicular lymphoma (according to conventional medicine incurable) in stage 3.
While I was undergoing treatment, my health deteriorated quite a bit, I caught many colds that lasted forever, I had trouble breathing, back and arm pain, and ankle swelling. After finishing treatment, my tumor markers were still high.
A person told me about the ***, I started using it and my tumor markers returned to normal values. After watching videos where Andreas K. appeared, I found out about ***** ** ***** and started using it instead of ***. I still have normal values ​​in tumor markers. The ankle swelling, back pain and arm pain improved a little but did not go away.
I kept watching videos of Andreas K. and one fine day, I saw a video where the Biotrohn was mentioned. I decided to buy it and using it, the swelling in my ankles and the pain that I suffered have disappeared and it is giving me a strength and energy that I had not felt for many years.
My total thanks to Andreas K. and the entire Medalab team for the work you do for health.
A fuerte abrazo.
Immaculate C. - Granada (Spain)
Biotrohn trochanteritis
After several months of suffering from inflammation in the hips preventing me from sleeping at night, it has been a program on yeast that has solved the problem for me. After a month, I notice that the pain returns very slightly. I do another candidiasis program and it's over at least for now.
I had previously done an anti-inflammation program without result.
Bernadette b.
Video testimony: Insomnia
Gerard F.
Gastroenteritis and flu
Hello, my name is Beatriz and I would like to share some of my experiences with the recently acquired Biotrohn. On the one hand, this weekend we were in the mountains with my son and he came down a bit scrambled from the excursion. At first we thought it was a cold or flu but then it started with gastrointestinal symptoms and fever. I didn't give him any medicine, I only put him on the Biotrohn programs: Influenza and Gastritis, his fever went down and he is much better. For my part, I was at a demonstration and I came home a little shaken. I also thought that he would have caught a cold, so I put on the Influenza and Coronavirus programs and today I am perfect, I even went to the gym.
Beatriz C. - Valencia (Spain)
Borreliosis / Lyme
My experience has been very rewarding and profitable with Biotrohn and Plasmatrohn at Medalab. I have felt very energized both physically and psychologically and will use them again if needed for my Lyme ailment. I am also very grateful for the treatment received. After more than a month of mental and physical fatigue, I tried the machines and managed to get back to a normal life.
Cristian Punzano - Spain
Plasmatrohn: a very powerful research and healing tool
It is a very useful and original product. Using it a few times a day, I noticed an unusual ease in relaxing and falling asleep. Since I was also looking to have lucid dream experiences, I was able to experience substantial improvement when meditating alongside the machine's delta wave frequency. I don't know if it would be possible to include the possibility in future updates of being able to choose other frequencies beyond the typified ones, being able to try the different numbers and thus exploring altered states of consciousness. Be that as it may, the experience with the machine is pleasant and it constitutes a very powerful research and healing tool.
RM - Barcelona, ​​Spain
Diabetic foot
I'm excited. I was able to try the Plasmatrohn for a week and the results have been incredible.
I suffer from diabetic foot (with ulcers), it never closes because I have to stand up at work and I don't take much care of my diet...
I tried it 2 sessions a day for a week with the programs: diabetic ulcer and acidosis.
I wish I could try it for another month so I could finish the treatment. I will return to Alcocéber and I will take it up again, while I include the before and after photos: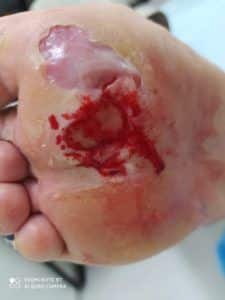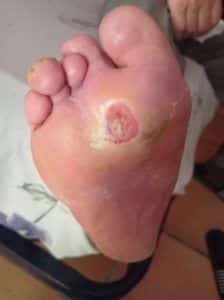 LP - Zaragoza (Spain)
canine mast cell tumor
I would like to share my amazing testimony. I am a veterinarian and in my clinical practice I had never used this kind of device. But I was offered the chance to try the Plasmatrohn for a few days. I decided to focus on a dog with whom we had tried all kinds of treatments and the prognosis for her mast cell tumor was still poor. The dog behaved very well near the machine, what's more, I think she even relaxed. After 7 sessions, the mastocytoma had been reduced to a minimum! Her owner couldn't believe it but she couldn't be happier. Without a doubt I plan to acquire a Plasmatrohn in my next budgets to continue on this exciting path that has opened before me.
Paula F. - Spain
persistent covid
My name is Jessica and I am 42 years old, I write this testimony with much love and gratitude.
I got Covid-19 in March 2020 and since then I have been with Persistent Covid.
My symptoms have been many, including chronic fatigue, dyspnea, severe chest pain, shortness of breath, muscle pain, swelling, depression...
After 16 months of suffering a lot, life led me to meet a person who told me about some machines that could perhaps help me, the zapper (Biotrohn, microfrequency generator) and the Plasmatrohn.
They invited me to do a treatment and see how I could do. Due to my circumstances, I was only able to spend two weeks using the machines, but long enough to feel the benefits.
I can affirm that they helped me to get out of my chronic fatigue where I could hardly get out of bed, giving me more energy (I felt as if it was the "gasoline" that my body needed), I also felt a reduction in the inflammation of the body, dyspnea and an improvement in my breathing and my mood.
I would have liked to have been able to spend a little more time with the treatment as I think it would have helped me improve even more.
When I can, it would be a very good investment to buy the machines.
I still have symptoms of Persistent Covid but they have definitely helped me to strengthen my system so I can continue to heal myself.
Jessica F. - Spain
Infertility
My daughter and her partner had been married for six years and could not have children. He was infertile, but he trusted me and I was treating him with the Biotrohn:
There were a total of 6 sessions of program #4 Detoxification and 6 sessions of program #122 Infertility.
Today my daughter is in her 6th week of pregnancy. We are happy.
Ing. Ind. MF Nieto - Ecuador
Back pain
Today we had to do an emergency service for my wife. She made a wrong move and suddenly felt a great pain in her back. We use Biotrohn. After 6 minutes, she had only 10% of the initial pain (she was in a lot of pain = 100%). At the end of the application, the pain was completely gone!
We have used Biotrohn daily on ourselves. We are very satisfied with the results.
PM - Brazil
The Biotrohn has changed our lives
First of all, I say that it has been a miracle to have the Biotrohn and we are delighted.
My asthma in the last 10 years became impossible. I spent more than 1 year on sick leave and in the hospital they put me through the extreme cases. They put me on a very expensive medication, a state-of-the-art monoclonal medication.
Coming to South America and losing that medication, I had to take various types of inhaled corticosteroids, as well as oral pills. I mean, a bomb. That's why I bought the Biotrohn.
Results:
I tried the "Asthma" program without any results. Then I thought of the disease of the 2st century: candida. I put on the candida program XNUMX times a day (morning and night). By the fifth day he had improved a great deal. I stopped all medication and only take minimal medication now and feel very well.
Summary:
For me this has been a true miracle. I was really desperate and the best doctors in Spain and Chile only gave me more corticosteroids without getting me out of the problem. A Spanish doctor even told me: "We must accept that doctors do not cure, we remove symptoms."
The Biotrohn has really changed my life.
2. My wife caught a very strong bladder infection 2 weeks ago, urinating blood and with great discomfort. We decided not to go to the ER. She started putting on the Biotrohn and in 5 days she was out of trouble.
3. In addition, he developed Herpes Zoster. The corresponding program was put on and we went to the doctor. He did not understand it because he saw that the herpes was going away without any apparent treatment. I mean, the Biotrohn worked like a charm.
Thank you!
AR - Spain/ Chile
Neck Pain
Hello Medalab!
I am getting good results with the Biotrohn set to the 24_Inflammation program. I have been placing the red electrode on my neck and holding the blue electrode in my right hand; Today is the first day I haven't had pain in a long time.
RJ - G. Brittany
Biotrohn for hypertension
We are using Biotrohn with my wife and family; At first, some are desperate and distrust because the healing or cure is slower than pharmaceutical medicines that offer immediate action but only relieve and do not cure diseases; well, it's your business.
I am from Ecuador, Industrial Engineer, I am telling you about something experienced. I am hypertensive and instead of taking my usual pill, I connected to program #25 (hypertension) for 2 occasions. Apparently it didn't work, but the next day I repeated program #25 twice and continued to take my medication. On the fourth day of use, the pressure was already less than 100/60! I discontinued the pills and no longer use them.
Ing. Ind. MF Nieto - Ecuador
groin mycosis
I had a mycosis in the groin last week, the skin in the groin had been irritated for two days, I used the Biotrohn, I did 2 treatments and it completely went away.
Joaquim Albino Silva - Portugal
Herpes labialis
When the beginning of a blister appeared on the lip, a symptom of herpes labialis, I did a single treatment and the herpes disappeared.
Joaquim Albino Silva - Portugal
Biotrohn has been totally effective, both in my personal experience and in therapy
In my personal experience and as a therapist, the Biotrohn has been effective.
I am a 65-year-old woman, a retired civil engineer. Six years ago, due to health problems, I became interested in alternative therapies. With menopause my health was weakening, little energy, altered circadian rhythm, I did not sleep well, I woke up tired, it was getting less and less; In May 6 I began to suffer from vertigo, I consulted an internist, she referred me to a neurologist; Despite medications and exercises, the vertigo continued, to the point that I had to stop driving. In October 2019 I found out about the Biotrohn through a friend, I asked her to connect with the program for Epstein Barr Virus, 2019 minutes after being connected I began to experience indescribable well-being, it was a blessing, no more dizziness, no more tiredness, no more lack of energy, now I enjoy vitality. I didn't hesitate to buy it to have at home to help my family and friends.
It should be noted that to know which program is the right one, I use Applied Kinesiology, a muscle test that gives us information about the body; in Biomagnetism it is known as "tracking the body", this allows us to develop an individual treatment plan.
With the Biotrohn I have been able to support people with pathologies such as: Non-Hodgkin lymphoma, Staphylococcus aureus, persistent cough, addiction to electronic cigarettes (2 cases), Helicobacter pylori, cystitis, skin conditions, anxiety, depression and autism, among others. .
Thank you Medalab, for being a company with a soul that provides us with the latest technology to help us achieve optimal health. I am infinitely grateful for the support they have given me.
Iveth GA - Hollywood, Florida, USA
Positive experiences with Biotrohn
With the Biotrohn I have only had positive experiences, I have treated people with lung problems with excellent results.
I myself have tried it for some parasites, after 5 sessions I feel very good, I perceive that I have detoxified myself. At first I noticed a slight headache, but I knew that it was a sign that it was working, since the parasites when they are attacked and die, release many toxins. As a therapist I took chlorine dioxide and zeolite to help my body transport those toxins faster out of my body.
I have recently used it to help my son with a cold that he had and noticed that the recovery time was greatly reduced.
Also for back pain, observing that the same day with a single session they disappeared.
So far I have no further comments, I am very happy to have the Biotrohn as an aid in therapy, as there are no contraindications and I have always had very good results so far.
Thank you very much.
Pilar G. - Germany
Very happy with the chlorine dioxide generator set
Dear,
I have been very happy that the chlorine dioxide generating equipment arrived in Chile on time and the follow-up provided by the transport company is very useful.
Regarding the performance of the equipment, I consider that it is very effective for the production of the concentrated stock solution of CLO2, if, for example, I obtain 1000 ml at maximum concentration and use 10 ml for each liter of water, they result in 100 dilutions for different uses for lives. from my family and friends.
Atte.
QF Sec. - Chile
My experience is with the CLO2 generator
My experience is with the CLO2 generator. Its practicality and effectiveness are amazing. I make 5 liters of ultrapure CDS at 3000ppm in 5 150/3000 hours with a XNUMXml load of sodium chlorite (half an hour to purge the sodium chlorite first before I start collecting the gas in the distilled water). Always corroborating with the test strips that the XNUMX ppm recommended by AK is achieved
For me it has been a super plus that I am offering to my relatives because I have had a lot of positive feedback from them, about how mild and tolerable CDS by electrolysis has been compared to CDS activated with hydrochloric acid. Those who stopped taking the acid activated CDS for violent healing crises, I encouraged them to try this new version and they are happy. Thanks to the scientists who designed this treasure and thanks to Medalab for their service, because it was surprising how fast the Generator arrived, since in less than 7 days it had already arrived from Europe to my PO BOX in Texas.
Jorge G. - USA
Confidence in the Biotrohn
I am very confident in the device, I use it daily. I put on detoxification, immune stimulation and various chronic programs.
Thank you very much and best regards.
Alberto R. - Spain
The truth of the Biotrohn
The truth is that the Biotrohn is a device that resembles a good friend that never fails you, always close by. Specifically, you can have it at hand, always at home, when you need it, it is there to help you with any health or well-being situation, in short, to balance my own state towards better health.
I have used several programs and it is worth it. In my case, for example: inflammation of the intestines, of some joint, I put on the Inflammation program and it works!
The Detoxification program, wonderful, is the one I use regularly, it gives me energy, I feel lighter and even when I'm constant it has managed to stabilize my insulin levels.
Thank you thank you thank you.
Cristina P. - Spain
The use of PLASMATROHN and Biotrohn
Hello, good afternoon. Regarding the use of PLASMATROHN and Biotrohn, I am currently only dealing with the first to better focus on the analysis. Obviously, I am working with those programs that are interesting to me. I must also say that the success in some of them may also be due to the fact that I have simultaneously taken the CDS, which will have something to do with the subject. Anyway, I have used programs like 84.- Hemorrhoids only once after a severe attack after eating plenty of spicy food, resounding success. Of course, I have not reoffended in the intake.
I use the 57 a lot.- Knee pain. I had a fall down the stairs resulting in patellar tendonitis, severe inflammation, etc. They wanted to operate on a knee. For now, as the matter is improving, the operation is postponed sine die.
68.- Arthritis. It also acts in conjunction with 57.
53.- Headache. She took advantage of it as an adjuvant to 12.- Sinusitis. I have suffered from sinusitis for a long time. This has triggered, they say, obstructive sleep apnea. Obviously I accompany it with techniques such as nasal washing with water and salt and others, so I don't know if the improvement can be attributed more or less to Plasmatrohn exclusively, everything helps. There has been a marked improvement.
15.- Pulmonary airways. Whenever I drink something cold at night, it triggers a major congestion, it's a problem. This is my header program. I put it in the morning and everything normalizes.
25.- Inflammation.- It has helped me with sciatica pain, it improves it and allows me to sleep.
Well, here we come. I hope to keep improving.
Gracias y saludos.
Eduardo H. - Spain
Biotrohn: absolutely effective
I have had the Biotron for a month and the results in terms of the pathologies treated have been absolutely effective, such as cold sores cured in two sessions. The hot flashes of menopause that were so many and didn't let me sleep (and for those who had tried all kinds of natural treatments and only reduced them a little, disappeared completely in less than a week. As for severe acne, its effects are Remarkable. Even at the energy level with the right program improvement is noticeable. From my experience I totally recommend it. The Biotrohn deserves the price it has, the best money invested. Thanks to the entire Medalab team.
Marta G - Spain
Amazing Plasmatrohn!!!
I can assure you that my experience with the Plasmatrohn has been surprising. My arthritis has improved a lot and my cataract is hardly noticeable. On the other hand, although the veterinary issue is not mentioned, I have to say that my dog ​​had breast tumors diagnosed for surgery, and in fifteen days treating her with the Plasmatrohn they have disappeared... I am amazed.
Jose P. - Spain
Experience with Biotrohn
"My experience with the Biotrohn was because one day my wife was paralyzed half of her face. The doctors told her that it was due to a virus and that it would take months for her to regain facial mobility and they were not sure of the evolution. I quickly remembered the device and she started using it. From the first minutes she told me that she felt the microcurrents in the area of ​​the paralyzed face. Well, it was an absolute joy that in just three days she managed to fully recover! "
Agustin L. - Spain
Biotrohn a product of excellent quality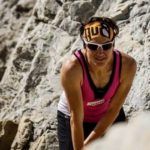 In addition to being a biochemist, a firefighter and a mother, I am an elite athlete and have run many marathons. On one occasion, before a very important one was held, a few days before training I had a sprain that left me in dust: swollen ankle and protocol of anti-inflammatories and rest for 2-3 weeks. Well, I made the wonderful decision to use the Biotrohn with the inflammation program by placing one of the electrodes on the injured ankle and holding the other with my hand. After 4 days, yes, 4 days, I recovered and was able to run the marathon, also achieving a very good position.
emmaroca.com
Emma Roca - Spain
we care about you experience